Our NEW letters from Santa!
We have a wonderful range of NEW letters from Santa this year and we are so excited to be sharing them with you! They will be personalised and created in the same loving and careful way as always, but they have a touch of something different, special and magical that we love – including a beautiful red envelope!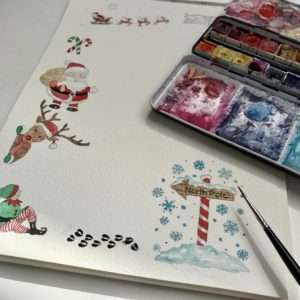 The new range of letters from Santa feature bespoke water colour artwork by Mrs Claus herself! Mrs Claus is also known as the clever Clare Grove. Writer and illustrator of the gorgeous "My Mummy" books, Stylist, Influencer and Mummy of three beautiful children. We are tickled pink to have had her magic touch on this collection.
Clare has created three gorgeous water colour images that are the hero's on our new designs. The collection comprises of a "Jolly Santa" an "Easing Elf" and a "Nosy Reindeer". Beautifully created and put together – such a clever talent. The header of the letter is a more traditional "from the Desk of Santa" mark nodding to authenticity and Santa authority. Which one needs reminding of at the precious time – we believe 😉
The new letters from Santa are printed on a high quality paper stock, with an old school texture and touch – reminiscent of the North Pole of old. Letters from this collection are sent in a beautiful heavy red envelope postmarked from the North Pole, and stamped on the front like a traditional letter! They will also feature the "Official mail from the North Pole" mark on the back of the envelope (just like last years letters)

All letters from Santa are hand signed by Santa in red pen and proofed checked by Mrs Claus before sending – of course! These designs combined with our wonderful new words for this years letters are going to create quite some magic.
Remember this line from a couple of years ago …
"It's a busy time here – but also the best time! Everyone's been working so hard that last night we decided to let our hair down and have a disco. You and Anna and Fleur would have loved it. We called it The Pole Dance. Let me tell you, those elves can really move"
Or this one …
"I've been working on my sleigh. Mrs Claus tells me it's important to look after myself, so this year I'm adding a new seat warmer. That will keep my bottom toasty and warm while I fly around the world visiting all the wonderful little children like you and Bonnie & Freddie"
Or one of my favourites …
"I bet you've also been spending lots of time playing with Rose and Olive – they are such special friends. Someone asked me the other day what the best present in the whole world was. And do you know what I said? Getting to spend lots of time with my family and my friends. That, and chocolate. I do love chocolate"
We've got more lovely moments like those in the letters this year, so exciting!
Key things to know about the letters from Santa this year:
Choose from two delivery dates this year:
1st week of December
OR the week before Christmas
Last order dates:
Outside of Australia 28th November (in the post on the 2nd December)
Australia 12th December (in the post on the 14th December)
* "Reindeer Post, Elfing Around and Hug from Santa" designs remain the same as previous years and continue to be available as per normal
Letters can be ordered here