Who actually writes Santa's letters?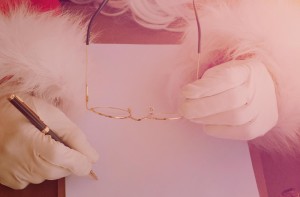 Santa's letters are not written by Santa himself, as much as we would love him too, the job he has ahead of him makes him busy enough ( imagine the stress of delivering every child's treasured present in exactly the right colour, box, shape and model in ONE night – from the North Pole!). So instead we work with special people who have a connection and empathy with Santa. And he's OK-ed that and happily signs each letter at the end!
This year our clever write, based in New Zealand, is one of those writers that you just love reading pro's from. She has this ability to always make you feel warm and smiley with what ever you are reading. She's a professional writer too, so she crafted and crafted this years letters and we are so pleased with them. Last year she wrote the Babies First Christmas letter when she had a small baby – it's the most delicious letter! Makes me want to have another baby just to be able to order it and keep in my memory box! (well nearly).
We take this job pretty seriously, so the people we choose to do this work, have to be the right fit, the right calibre and have the integrity and love for Santa that we do. And of course they have to be believers too.
Here's a couple of recent testimonials we have received:


I have been sending 'letters from Santa' since my eldest grandchild was born in 2009. I now have 6 grandchildren. They all love getting their letters. There is nothing better than that phone call from each of them telling me they have a letter from Santa with so much excitement in their little voices. The letters are very popular with their parents too as they prove to the children that Santa is watching and they better be on their best behaviour!!
Christine, Nov 2016
"I love the Love From Santa letters because of the fantastic wording they use – it's all about making my children feel special "
Fran, Nov 2106