The countdown to Christmas begins so soon!
What is Advent? Advent is the period of four Sundays and weeks before Christmas (or sometimes from the 1st December to Christmas Day!) Advent means 'Coming' in Latin. This is the coming of Jesus into the world. Christians use the four Sundays and weeks of Advent to prepare and remember the real meaning of Christmas.But you don't need an Advent calendar to know that Christmas is coming, but opening a little numbered door to reveal a little something is an idea that everyone—religious or not—can get behind.
I grew up with the chococlate Advent Calendar tradition. One day, one little door, one chocolate. Such fun. Now for my own family, I use the Advent countdown to bring Christmas to life as a family. It's such a special time of year, but it can be busy and hectic too. That's when and why, I fell in love with the advent calendar full of things that connected the family again. I still sprinkle the 24 days with chocolate (of course) but things like cookie making, putting up the tree together, singing carols after dinner together, making gifts for the neighbours etc. It's hectic, it's intense, it's fun and it's highly anticipated in our house!!
But getting yourself organise early is KEY. Below are some ideas & hacks to help you get started!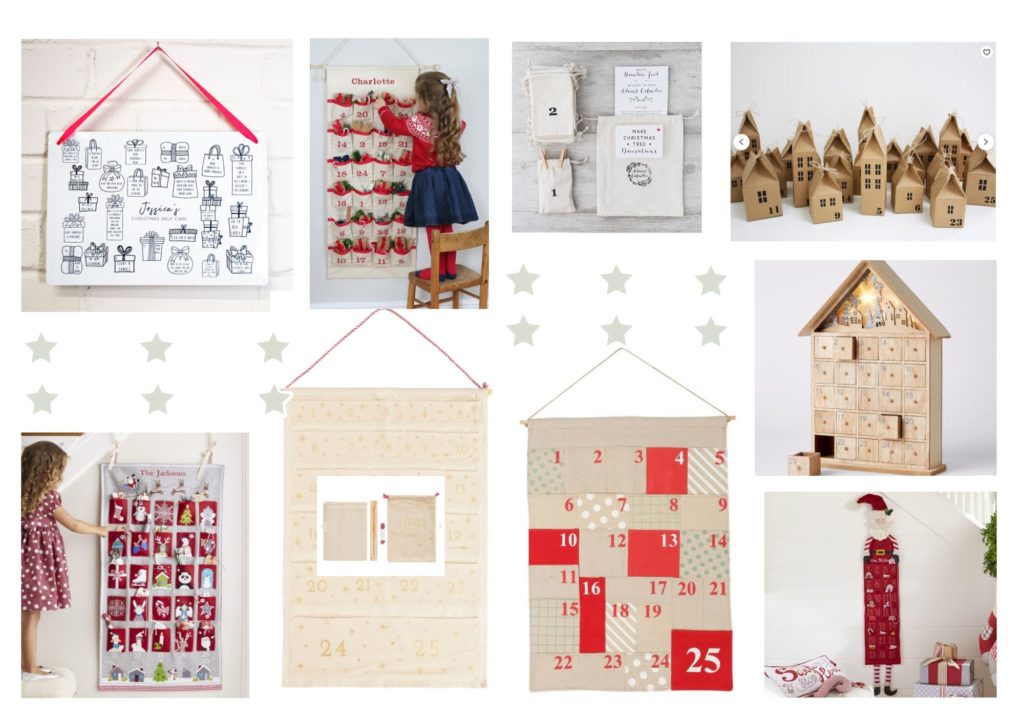 My top tips and tricks for having an Activity Advent Calendar:
ONE: Start looking for your advent calendar from last year (if you are re-using one) now, just in case you can't find it! Save yourself a last minute panic purchase where you will have limited options.
TWO: Decide what your Calendar is going to look like – are you going to buy a blank canvas to work with, or are you going to source paper bags and use ribbons and string to put it all together? There are so many neat ideas out there.
THREE: Then sit down and decide what's most important to you at Christmas and theme your advent calendar activities that way. Is it family moments, community awareness, the joy of giving, chocolate treats, fun & silliness, reflection, stopping and being together, activities & craft? You decide, it's your ritual. Create a list of 24 things you want to do as you build up to Christmas around that theme. Realistic things, that you know you can achieve. See my template starter below, add to these OR have a look at this amazing pack with the cutest little cards and ideas from Keeps NZ, I loved this last year, and I love it again this year. Such an easy and simple way to get organised – and their ideas are so cute. Massive thumbs up from me!
Then when 1st December hits … create your own rituals around your calendar:
*Take daily turns to open the Advent Calendar, adults included, or not?!
*Decide what time of the day the Advent Calendar is opened, first thing, night time? Make that an important time for the next 24 days
*Perhaps if you are the one who opens the calendar, you are the one who must check the water levels of the Christmas tree? Or are you tasked with another equally important task?
My favourite blank canvases to use for creating your own family advent calendar:
*Myer have this super one for $49
*Love this white and gold star themed hanger from Kikki-Kand it comes with 24 little bags for each day too!
*One of my favs for a few years now is this one on Etsy, from Hide and Seek textilesis this one for $154
*Pottery Barnhave a few great fabric options, I brought the Skinny Santa Advent Calendar from them last year and loved having his big red presence in our house every day! (plus sign up to their newsletter for 15% off your first order which is good to remember)
*Targethas a great little wooden box for $30
*Myer has two great option for wooden calendars with little pull out drawers; this white and gold $99 in white and goldand this super sweet little one from the House and Garden brand for $99.
*Oh and these – LOVE LOVE LOVE! I've just ordered a wee set of these paper Advent Boxed Houses– I am going to decorate my Advent Calendar with them and a few wooden pegs … I will share pics when I've finished!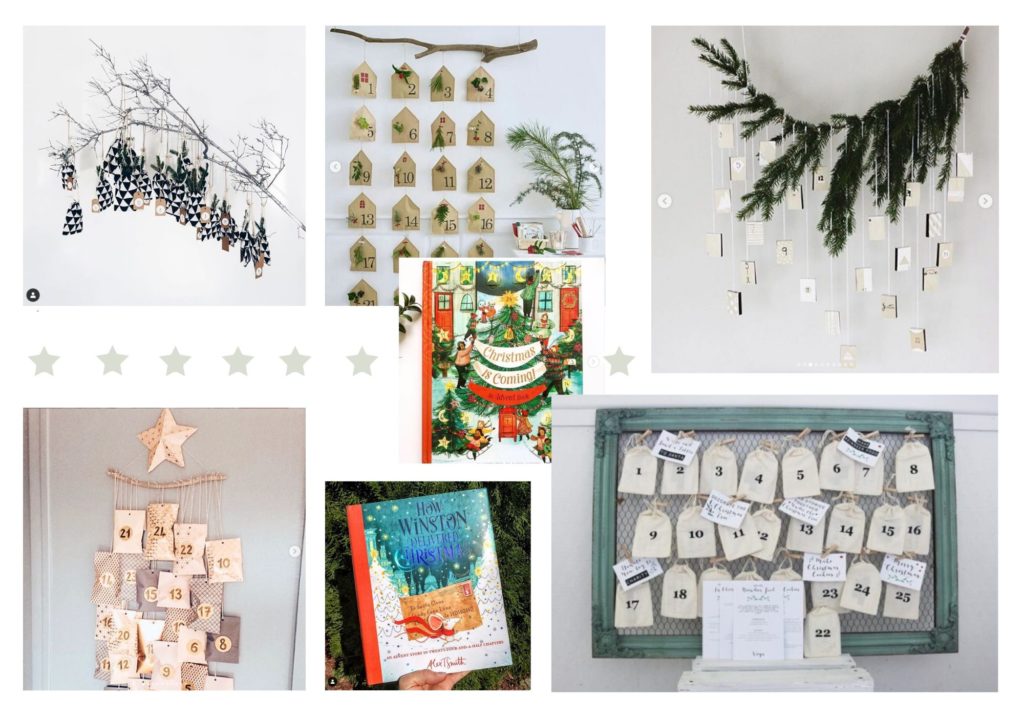 Other Advent calendar ideas
Two great Advent Calendar book options:
How Winston Delivered Christmas– 24 chapters of a sweet little story about a mouse on a very important mission – to get a letter to Santa! (right up my alley). Each chapter has a festive activite for the family to do. A great gift!
Christmas is Coming – an Advent Book. Every day of December brings a delightful new Christmas tradition in this keepsake advent book. Each flap on the cover of the book reveals a clue to a festive activity that can be found inside the pages. It might be a recipe for a delicious homemade treat, instructions for a cozy craft, a game to play, a carol to sing, or a beautifully illustrated story to read with the whole family. A sort of one stop shop!!
For the dog:
Personalised Dog Advent Calendar – this or this
For someone who needs to take care of themselves:
Love this little idea Personalised Self care Advent Calendarfrom Hard To Find, full of lovely ways to be kind to yourself (24 in fact!) from lighting a candle to going to bed early, to turning off your phone for the evening.
Advent Calendars to buy
Many options to buy pre-made sets now! So many brands are making beautiful advent calendars it now seems – no longer just the chocolate ones. We had a beautiful one from L'Occitane last year, which was so fun to open at bath time. This year I see there are ones from; The Body Shop, Kiehls, ASOS, Lego, Whiskey Companys, Sephor, YsL, Crayola, Villeroy & Bch, Mecca, Smiggle, Harry Potter, Jo Malone, Happy Socks and one full of Beard Oild Treats! Seems this is an advent calendar for everyone if you go looking.
My Love From Santa family Activity Advent Calendar starters:
No making bed day!
Make a set of Christmas decorations with this awesome Christmas dough recipe (from @anneke_heu)
Christmas song sing and dance session tonight
Do something special for Dad Day
Think of three kind things each of your family members has done for you this year, and write them down for them to keep
Do something special for Mum / Dad Day
Put up the Christmas tree together
Find one special Christmas chocolate hidden somewhere in the house
Make a Christmas card for your favourite neighbour and leave it in their letter box
Make a batch of reindeer food with this simple recipe
Do something kind for someone, unexpectedly today – report back at dinner time what you have done
Have a PJ Day!
Choose your favourite Christmas food to make today – ideas: mince pies, ginger bread house, pavlova, Christmas coloured iceblocks, Christmas Tree toast
Candy Cain seeds – plant them and see what grows overnight