Did you know writing Santa letters is good for your child's development?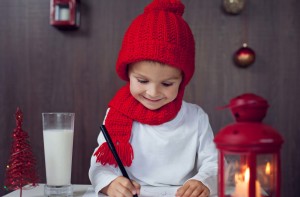 Christmas time is a time for imagination, wonder & magic and of taking some time to set up traditions and rituals for your family. For me in my family writing to Santa letters (or Father Christmas letters as mum referred to him) was always something we sat down to do in the build up to Christmas as children. We were seated around the kitchen table, paper, coloured pens and bucket loads of ambition about what we would write and say. I think poor Mum ended up doing most of the work, but it didn't feel that way! We weren't lucky enough back then to get replies to our Santa letters – he was "far too busy" to write replies. But the enjoyment we got from actually sitting down to write the letter and then sealing it safely up seemed like plenty enough for the time (we are talking before internet time here!)
When I grew up I had a pen pal in the Canada (Zoe), we wrote to each other probably about three times a year – but it felt so frequent! And the delight of finding in the mail a special letter addressed to me from someone in a far off land, someone I could only imagine, was well … it was pretty special.
Writing letters as a child is not only fun, writing letters is actually part of a child's key development – psychologists and neuroscientists say it the links between handwriting and a child's broader educational development run deep indeed helping with read skills, idea generation and the ability to remember information better. See this article form the New York times for more information about this.(*http://www.nytimes.com/2014/06/03/science/whats-lost-as-handwriting-fades.html?_r=0)
To use a term that shows I have aged … "Nowadays" in this instant, digitised, and fast paced world there is seldom time or the need for letter writing anymore – facetime, sykpe, texts, emails, whats app and other instant forms of communication all seem to out weigh 'snail mail' communication. Its funny though because even as an adult I still delight in checking the mail every day and seeing if maybe today there is something personal in there for me … I don't think the wonder ever wears off for some us!
So I say lets not loose the magic in letters at Christmas time – lets harness it for all its worth and the specialness it brings. Lets keep this tradition alive. Santa letters here we come. I'm in.
And if you are going to put in all that effort in writing to Santa its worth making sure your reply is off a top notch standard. So if you are interested in truly beautiful, magical and very cleverly written and designed Santa letters (either as a reply to one written or as an unexpected delight in the mail) then order a letter from Love From Santa today. We would be honoured to sprinkle you with Christmas time with letter magical-ness (however big or small you are!).